Please visit our Indie Go Go Campaign here
Exclusive Title Sponsor ($1000)
Incorporate presenting sponsor in on-stage introductions
 Logo printed on playbill; all media materials such as fliers, banners, t-shirts; in tandem with the TMF logo, all press and publications
Additional advertising via news, radio, print, outdoor, and internal ads with mention of title sponsor
Logo advertised on the Triad Music Festival website with link to website
Premium on-site sponsor signage (signs must be pre-approved)
Company booth at the NC Regional Music & Gear Exhibition
8 VIP Badges giving access to ALL shows with VIP seating and access to VIP parties and activities
Additional tickets available at discounted rates for Mainstage Show
Headliner Sponsor ($500)
Logo printed on playbill, all media materials, in tandem with the Triad Music Festival Logo, all press and publications
Additional advertising via news, radio, print, outdoor, and interned ads with mention of headline sponsor
Logo advertised on the Triad Music Festival website with link to website
Premium on-site sponsor signage (signs must be pre-approved)
Company Booth at the Mainstage Show
 4 VIP badges giving access to ALL shows with VIP seating and access to VIP parties and activities
 Additional tickets available at discounted rates for Mainstage Show
Donors & Underwriters ($250)
Logo or Name printed in playbill and all media materials promoting the festival
Name is listed on the Triad Music Festival website
 2 VIP badges giving access to ALL shows with VIP seating and access to VIP parties and activities
Friends of the Festival ($100 & below; In Kind Donors)
Listing as a donor in the Triad Music Festival weekend playbill and on the website
Other Sponsor Opportunities (Sponsors listed in playbill, on fliers, on website, announced at shows, and given location for putting out sponsor materials during all three days of the festival)
We can use sponsors for any of the following:
Equipment for any of the music stages (microphones, instruments, speakers, consoles, plug-ins, etc.)
Lanyards for Expo badges
Equipment for any of the workshops and panels (speakers, microphones, consoles, etc.)
Food Donation for Workshop presenters and panelists
Bags or swag for participants
Playbill Advertisements
1/8 page ad: $40
 1/4 page ad: $60 (Horizontal or Vertical) 1/2 page ad: $80 
Full page ad: $100 Back Cover
 (full color): $200
Specifications – All ads MUST be submitted in digital form (pdf files are preferred) or as camera-ready art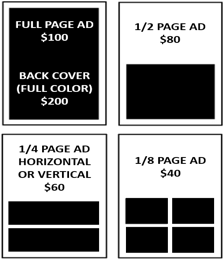 Please submit to: info@soundlizzard.com – All color ads must be submitted in a high quality digital form 
(300 dpi resolution) 
(pdf or png files are preferred).